Looking for a dessert to pair with an aviation coctail? The aviation cocktail is one of my wife's favorite drinks, so I designed this tart as an homage. It has a juniper and Luxardo crust, violet custard, and lemon curd. If you're looking for a dessert to pair with an aviation cocktail, its a natural fit. Its visual appeal is disproportionate to how difficult it is to make; the hardest step is rolling out the tart dough.
An Aviation cocktail is a classic cocktail that is, essentially, a gin sour sweetened with Luxardo maraschino liquer. You make it with gin, maraschino liquer, creme de violette, and lemon juice. In our house, we go very light on the creme de violette and a bit light on the luxardo, for a boozy and sour result, which might be a bit harsh for some people. This aviation tart, on the other hand, while it has plenty of lemon, it far from dry.
Aviation Tart Crust
Ingredients
1 cup all purpose flour
1/4 cup powdered sugar
Tablespoon whole juniper berries (probably about a teaspoon ground)
Pinch of salt
6 tablespoons (3/4 stick) chilled butter, cut into cubes
2 teaspoons Luxardo maraschino liqueur
2-3 teaspoons Aviation gin
1 egg white, slightly beaten
Preparation
Grind juniper berries in spice grinder.
Combine flour, sugar, juniper berries, salt in food processor and pulse briefly.
Using the pulse function, cut in the chilled cubes of butter until a coarse meal forms.
Add 2 teaspoons of Luxardo and then slowly add 1-3 teaspoons of gin until a moist clump of dough begins to form.
Flatten the ball on a piece of plastic wrap into a disc, fold the excess wrap over the disc, and refrigerate at least two hours.
Preheat the oven to 350. Roll out dough into a 12-inch round. Drape over a 9-inch tart pan with removable bottom. Fold over the overhang and press to make a double wall. Lightly fork prick the bottom of the tart and brush with egg white.
Bake until the crust is golden, about 18-20 minutes. Halfway through, apply an additional later of egg white and poke any air bubbles with a fork.
Notes
My edges fell a bit and I needed to force them back against the side of the tart pan at the halfway mark. Since the dough was chilled and the oven pre-heated, my guess is this is because I used non-stick spray, which I'll omit next time. If you have pie weights, you might try putting them near the edges. The problem wasn't pronounced enough to warrant switching to a sucre dough.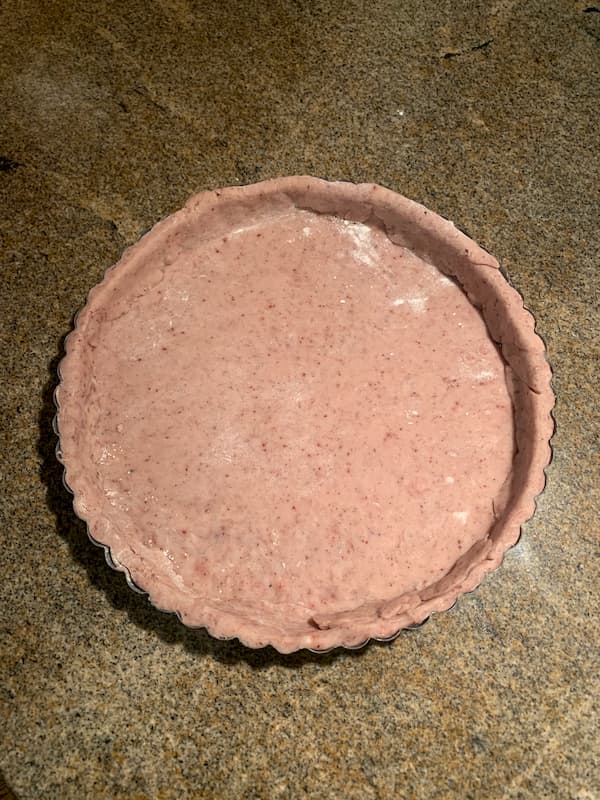 Violet Custard for Aviation Tart
Ingredients
1/2 cup sugar
1/2 cup heavy cream
4 large egg yolks
2 large eggs
1/3 cup creme de violette
Juice of 1/2 lemon
A few drops of purple food coloring, if desired
Preparation
Combine sugar, cream, eggs, and yolks in mixing bowl, and whisk well.
Mix in creme de violette, lemon juice, and food coloring, if using.
Pour filling into warm crust until it comes up a little more than halfway (you may have excess filling).
Bake until set, around 30 minutes. You may need to poke with a fork if it becomes too puffy.
Remove from oven and let cool most of the way before adding lemon curd.
Notes
Food coloring is optional and whether and how much you need may depend on the brand of liqueur. I used purple coloring with an extra drop of red, which helped counteract the yellow from the yolks. Presumably a blue and red blend would work as well.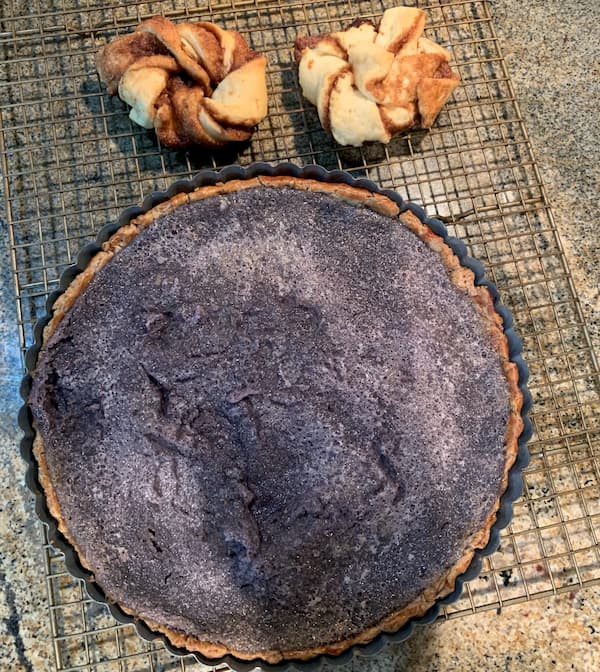 Lemon Curd for Aviation Tart
Ingredients
3 lemons
1 1/2 cups sugar
1 stick (4 oz) unsalted butter, room temperature
4 large eggs
1/2 cup lemon juice (about 3 lemons)
Pinch of salt
Preparation
Peel the zest of the three lemons, being careful to avoid taking white pith.
Pulse the zest and sugar in a food processor until the zest is finely minced into the sugar.
Cream the butter, sugar, and lemon in a stand mixer. Add the eggs one at a time, then add the lemon juice and salt, and mix briefly.
Cook the mixture over low heat in a sauce pan, stirring constantly, until the temperature reaches 170 degrees (around 10 minutes). Let cool a bit before adding to the tart.
Notes
You could reduce this recipe because you should have at least 1/2 – 1 cup of lemon curd left over. I have never found extra lemon curd to be a particular problem.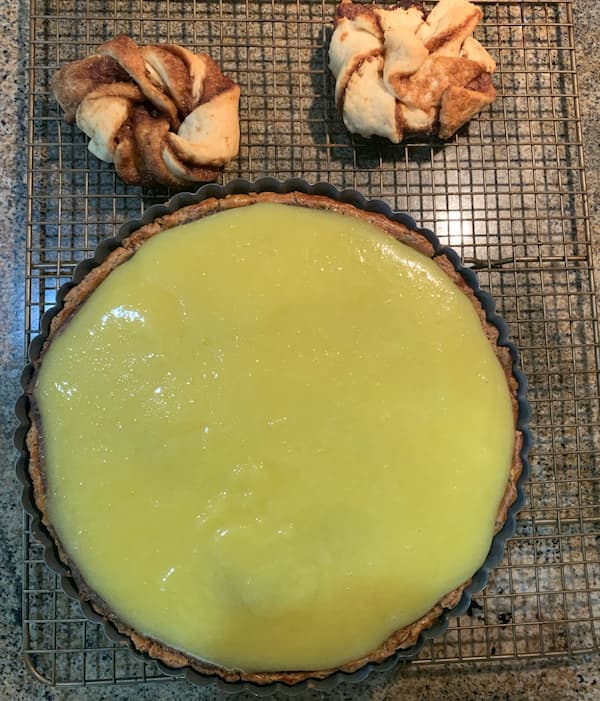 Aviation Tart Assembly
When the lemon curd has cooled a bit but has not set up, ladle it over the violet tart and spread with the back of the ladle, similar to saucing a pizza. Let cool a bit more and dust with powdered sugar.
I used some purple flowers as garnish that I think were asters, which are edible, but I'm not quite good enough on my plant identification that I encouraged my preschooler to eat them. I then put a thin lemon slice in the center. The powdered sugar held up well in general, except where I placed the lemon. If you go the lemon route, I would either add the slice(s) right before service, or lay the lemon slices on a bed of sugar to desiccate a bit before putting them on the tart.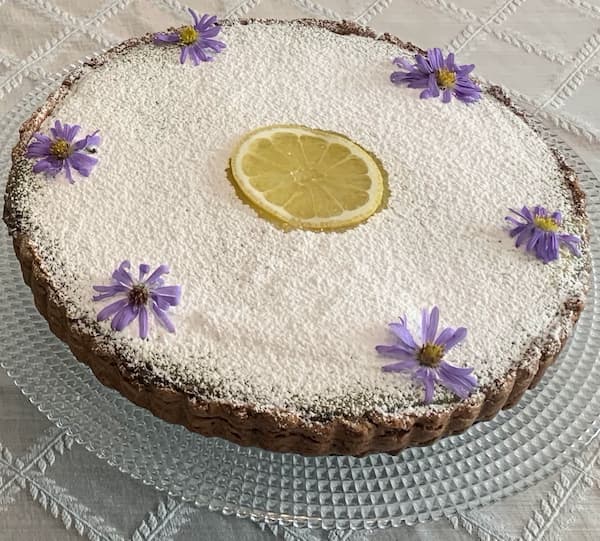 I topped with homemade cherry ice cream. I'm not reposting the recipe because it was just okay. I think I'll try Serious Eats' roasted cherry version next time.
The quenelles I made were way too big, and kind of messy. Next time I'd either make much smaller quenelles or plate slices on a larger plate and place the ice cream next to the tart.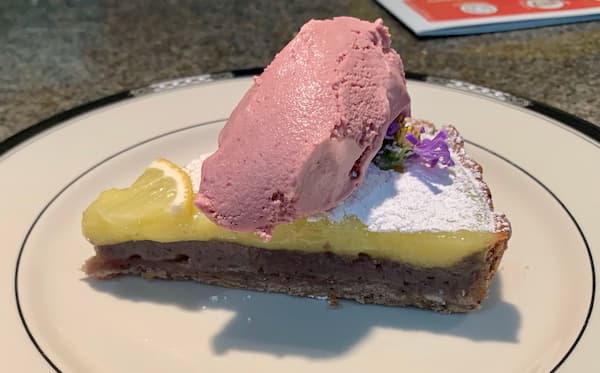 Serve with, you know, an aviation cocktail.